My proa project
---
Last updated: 11-11-03
---
A few years ago I bought a used proa that had been built in Canada about ten years ago. It was built to the plans of Chris Whites dragonfly with the sailing rig modified to a sprit sail. It is a tacking proa, also referred to as a one way proa. The hull was built of cold moulded red cedar. The deck was okoume plywood and had rotted. The rot had spread to the pine gunwales. I tore it down to just the empty shell of the hull for a rebuild. The original flush deck design was uncomfortable. You were sort of perched on top of it and scooted around to move. I decided to replace it with a modified deck structure that would be a comfortable cockpit with wing seats out over the water and a footwell in the hull. The new permanently attached crossbeams support the seats with a flotation sponson on the side opposite the outrigger to make it self righting. The outside of the coaming rails will have oarlocks. The result should be more comfortable, more practical, more versatile, and stronger.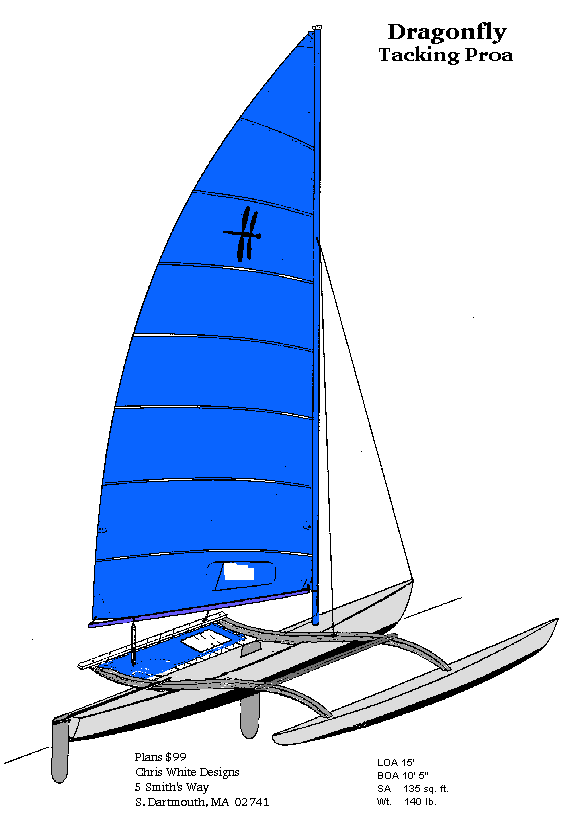 Chris White Designs : The multihull designer who designed the dragonfly proa

---
I'm avoiding the use of metal fasteners. The oarlocks and deck fittings will be moulded in.

This is a recent photo showing the new deck structure.
The outriggers (akas) will tie into this structure.

---
Some details
I am using carbon fiber lashing to reinforce connections of members.
I lashed the crossbeams to the hull using a carbon fiber ribbon in epoxy resin.




I used mortice and tendon joints to attach the side rail coamings to the crossbeams.




A pair of integral oarlocks are made using a Garolite epoxy composite tubing
inserted in a shaped wood block. Carbon fiber ribbon lashes the top and bottom
where stress will be concentrated. The brass horns will pivot in a UHMW bushing.
No squeaky oarlocks!


More to come